Hundreds of cleaners are growing their business with Sudzy. What are you waiting for?
More orders = more business = more profit. Easy-Pizy.
Learn More
Call Us: (929) 277-8399
SUDZY IN ACTION
Specifically tailored for the laundry and dry-cleaning market, Sudzy is a complete service that will attract and retain customers. Our user-friendly console lets you interact directly with your clients to schedule pick-up and delivery times, and provide customer service in real-time. And everything is automated and simple.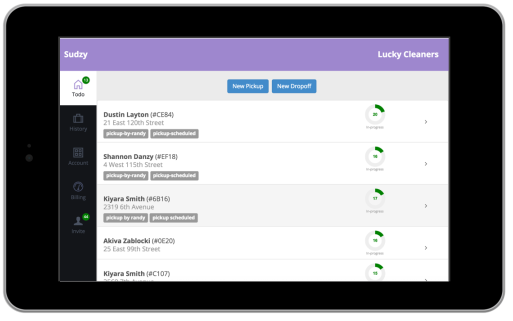 stay_primary_portrait

Unlock Online Ordering

Manage and track orders with one click, and get an online and mobile presence for your business.

room

Delivery Made Easy

Use Sudzy Express and our Dedicated Driver App for 24/7 pick-up and delivery

trending_up

Increase Customer Loyalty

Communicate directly with your customers via our communication center for increased customer retention and loyalty.
HOW YOUR CUSTOMERS EXPERIENCE YOUR SERVICE
With Sudzy, customers can schedule pick-up and delivery from your cleaners with a click of a button, either through our mobile app or our dedicated website.
Simple
Simple and easy laundry and dry-cleaning pick-up and delivery, completed in a single click from our mobile app or the web
Time Saving
Customers can schedule pick-up and delivery on the go, with 60 minutes free pickup and delivery.
Communicate
Customers can track the status of their order with text messages and push notifications.
Download the app to see how customers experience Sudzy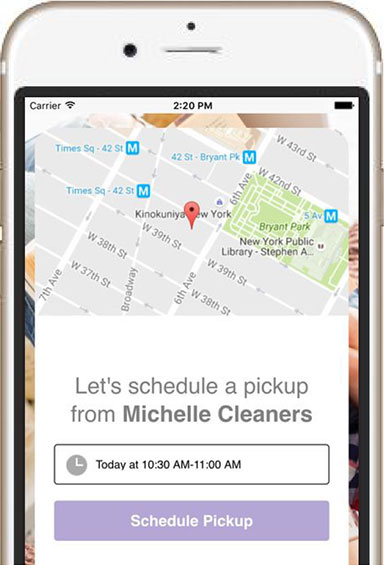 PRICING
Pro
$99/mo, Order Fees
doneListed and promoted as Sudzy member
doneAccept online orders
doneEnjoy Sudzy Express
doneMarketing tools
doneCustomer communication
doneOrder tagging
signup
TESTIMONIALS
We guarantee quality and support. Our cleaners love us & we love them. Here's what some of them say:
Sudzy Express created another leg of business, customers are coming back. LaChena, Upper Manhattan
My experience personally with Sudzy has been really great. I would definitely recommend it to anyone. Christina, Lower Manhattan
The app and delivery assistance helps me offer the fastest service possible to my customers. Abraham, Brooklyn
Sudzy connects the customer and our business really well. Our customers know we are working as a great team. Pranai, Lower Manhattan